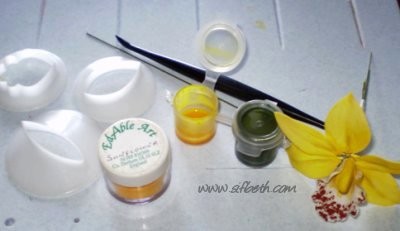 You need a set of cymbidium orchid cutters. These are from FMM. You also need gauge 24 floral wire in white or green, a dresden tool, floral tape and gumpaste. You can either color the gumpaste in advance or paint it later with powder colors dissolved in clear alcohol.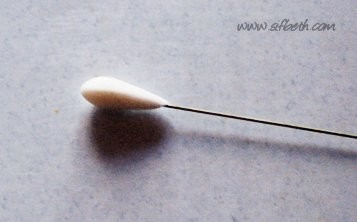 First you make the column – attach a small drop of gumpaste on a 4 inch long piece of floral wire. Form it between your thumb, index and middle finger to a triangular shape.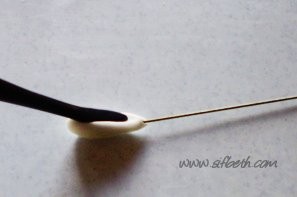 With the flat end of your dresden tool, hollow the lower side of the drop shape.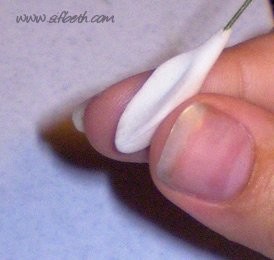 Like this. Pinch the top to keep the triangular shape. The pointed side should point upwards on the assembled flower.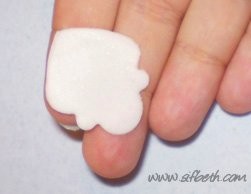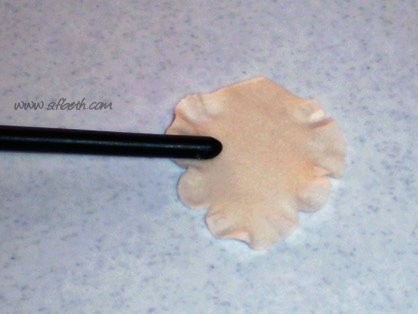 Give it a frill with a frillstick or the end of a paint brush if you've managed to throw your frillstick away. Not that I'd ever do that kind of thing.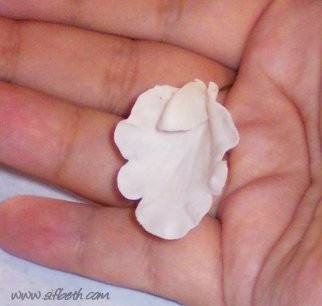 Attach the throat to the column. Let dry.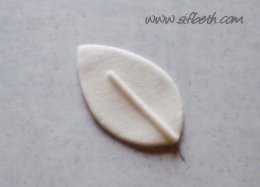 Cut out 3 wide petals with a ridge.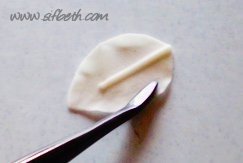 Thin the edges on the back with the flat end of your dresden tool, or with a ball tool if you prefer. I like the dresden tool as it thins the entire petal without making too much frill.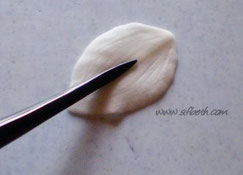 Vein the front with the pointed side or use a orchid veiner if you have one. Attach to wire and pinch the tips slighty. Leave to dry slighty curved.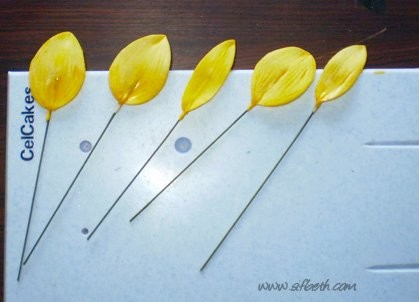 You need 3 wide and 2 narrow petals. They are all made the same way. Let them dry completely and paint them.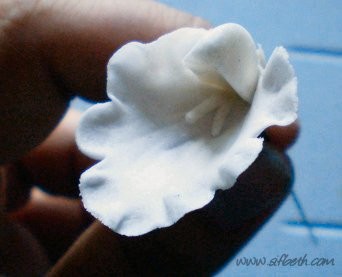 Grab the dried throat and place two small sausages of gumpaste in the back. You can perform this step earlier when you attach the throat to the column, but I prefer waiting until dry. Brush the back with a bit of glue and place the gumpaste with a narrow pair of tweers.
Paint the thing. Look at pictures of real orchid for inspiration.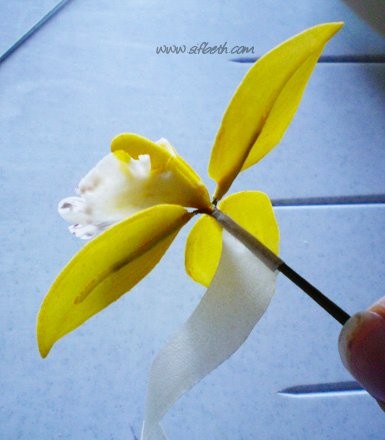 Tape the 3 wide petals to the throat. Start with the top petal and them the bottom ones.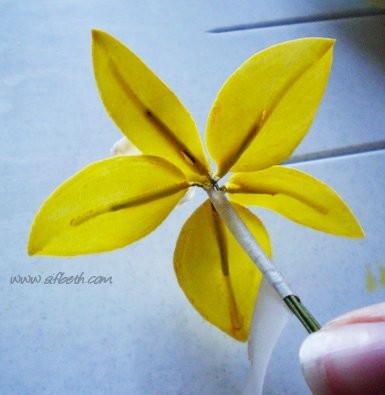 Attach the narrow petals and tape the stem.